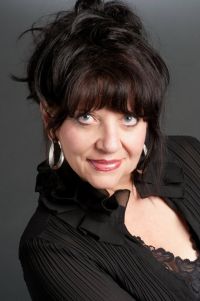 Official Show Title: InterViews & InterActions
Host: Linda Strasburg
Website:  www.lightson-network.com
Show Synopsis:  Interviews in discussion format with noted personalities, professionals and scholars covering cutting-edge topics in health, spirituality, self-improvement, social issues, relationships, science history and fitness; an hour of discovery. learning and enlightenment for cultural creatives.
Your History on K-Talk:  In 1992 I was getting my master's degree and volunteered as a producer for K-Talk's psychology advice host. One day she decided she was done with radio and left right before her program was to start. I was asked to fill in and have been on K-Talk doing the program since. When I first started because I was so new it was hard to get people on my program but when I got Frank Zappa for an interview just before he passed away my show took off. Now I am contacted by famous writers and professionals all over the world to who want to be on the program. I get to pick the cream-of-the-crop to present to the listeners. I am proud to be the longest-running female talk show host on the air today in the United States.
What does K-Talk Mean to You:  Most of the media we see and hear is edited, programmed propaganda and controlled. K-Talk is the last frontier on open radio discussions. It is really the voice of freedom, freedom for open expression and ideas. It is something to treasure in this day of more control and limited freedom of speech.
What do I mean to K-Talk?  I take great pride in being prepared by researching the material, reading the books and putting high-quality guests on my program, people who will inspire, motivate, educate and enlightening the listeners. My programming is unique, positive, educational and most important on the cutting-edge of new ideas and discoveries.
Favorite Food:  I have done a number of cooking and food programs because I am a gourmet cook and I am Italian. Can you guess my favorite food? Crème Brule, Pasta and my grandma's homemade Tuscan bread that I've perfected after many tries.
My Favorite Book:  I have so many because I need to read two books a week for the radio interviews I do. Right now I am reading a book by an upcoming guest, Finding a Way in a Wild New World, by Martha Beck the writer for Oprah's "O" magazine. It is a book that will help all of us meet the challenges of our fast-paced world. Well written and full new advice I haven't seen before.
Favorite Quote:  Those who wonder are not necessarily lost. Tolken
Anything you'd like to add:  I believe that we create what we imagine. This year my goal is to create a positive expectation for 2012 through the guests I am interviewing on my program. My goal is to make you think, to open your imagination, to expose you to new horizons and to help you, the listener, navigate this wild new world. My program will be an adventure this next year… I hope you'll join me.