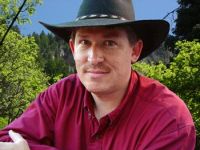 Official Show Title: Western Life Radio
Host: Brian Brinkerhoff
Co-host: Produced by Becky Brinkerhoff.  Junior Reporters include Sterling and Aspen Brinkerhoff.
Website: http://www.backcountry-magazine.com
Show Synopsis: Western Life Radio offers a well-rounded family perspective on the Western Lifestyle. Outdoor and self- reliance topics range from hunting, fishing, camping and hiking to gardening, outdoor cooking, and preparedness.  We also cover destinations, activities and events, wildlife, and ethics.  Western Life Radio is the trailhead to your next outdoor adventure.
Your history on K-Talk: Brian has been with K-Talk for more than 18 years.
What does K-Talk mean to you? K-Talk is the voice of the people– offering opportunities to share varying viewpoints on topics that affect us all.
What do you mean to K-Talk? Western Life Radio informs K-Talk Listeners about the abundant healthy outdoor activities and family recreation that Utah and the West provides.
Favorite Food: I enjoy all foods. Variety in foods is fun. I worked as a research chef for many years and love to create delicious meals.
Favorite books: Scriptures, Recipe Books and all resources that help me learn and understand the good in the world and life around us.
Favorite quote: May all Your Days be filled with new Adventures!
After 20 years on Utah's airways, Backcountry Utah, with Host Brian Brinkerhoff, is now Western Life Radio. Maintaining the same design and tradition established by Backcountry Utah for high quality and diversity, Western Life Radio promises to entertain and inform audiences for years to come with a name that more fully represents the variety of topics covered on this program.
With his award winning programming, Host Brian Brinkerhoff has been recognized locally and nationally for his positive influence along with his outstanding public outreach, education and support to the community. Brian's zest for life and inquisitive nature are expressed in every segment of Western Life Radio. Listeners enjoy a wide range of topics centered around life in the West, including Outdoor Recreation, Travel, Rural Living, Self- Reliance and a myriad of Family Friendly Activities that can be enjoyed by listeners of all ages.
Western Life Radio enthusiasts stay current on outdoor related news and events and find links to sponsors and other guests on Western Life Radio by visiting www.westernliferadio.com Archived shows can be accessed at http://backcountrynetwork.blogspot.com
In addition to Western Life Radio's dynamic and informative websites, social networking sites like Facebook and Twitter have become useful tools for regular updates and upcoming promotions. With this multimedia experience, Western Life Radio enthusiasts can enjoy information and opportunities in one easy location.
Producers and owners of Western Life Radio are excited to embark on the adventure of a third decade with a fresh new name and attitude that will appeal to larger audiences and will attract loyal listeners for generations to come.