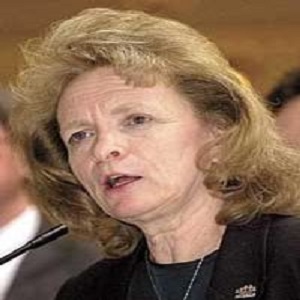 Gayle Ruzicka was born in Nampa, Idaho to a father who was a labor union president active in the Democratic Party. Ruzicka has stated that her family, particularly her mother, were all active in politics at a grass-roots level. She is the mother of 12 children, grandmother of 20, and an active member of The Church of Jesus Christ of Latter-day Saints. Mrs.Ruzicka and her husband, Don Ruzicka, live in Highland, Utah.
Gayle was involved in politics in a minor way while raising her children, with involvement during the Equal Rights Amendment issue while living in Idaho, and involvement with the Eagle Forum during the 1988 impeachment of Arizona governor Evan Mecham. Gayle moved to Utah with her husband and children in 1989. In 1991, she was designated president of the Utah Eagle Forum, the Utah Chapter of the Eagle Forum.
Gayle Ruzicka is claimed to be one of the most influential individuals in Utah's political scene and is famous for her phone tree, used to promote her political agenda. In 2004, she was part of the Utah delegation to the Republican National Convention.
Gayle hosts the "The Gayle Ruzicka Show" a weekly radio show on KTKK "K-TALK" 630 AM addressing conservative political issues in Utah.
Gayle's power and her positions on a variety of conservative and social issues including homosexuality have caused controversy.