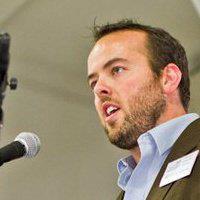 Weston Clark is a born and raised Utahn who has lived in Salt Lake County, Davis County, and even Rich County – and as such is an expert on all things Utah.  He graduated from Woods Cross High School in 1997 and after a year at Weber State University graduated from the Social Studies Department of the University of Utah in 2002 and became a certified teacher in 2003.  Eventually he went on to earn his Masters of City and Metropolitan planning degree from the "U" in 2010.
After a stint teaching civics to high school students in Washington DC in 2004, Weston became a full-time employee of the Utah State Democratic Party.  While staying active in the Party Weston taught high school at Viewmont High School in Bountiful from 2005-2008, was the Chairman of the Salt Lake County Democratic Party from 2008-2011, and served on the county party executive committee for two prior years.  He now does political consulting for only the best and brightest candidates, while being a full-time dad to his and his partner's son.
Weston loves to stay active in the community and has taken a visible and outspoken role fighting for LGBT equality.  He and his family have been profiled many times on the news and in print to demonstrate that LGBT families are just like other families and deserve the same respect and protections as all other families.  He is active in his community council, the Democratic Party, and in local government.  He and his partner, Brandon are raising their three year old, Xander in Salt Lake City.