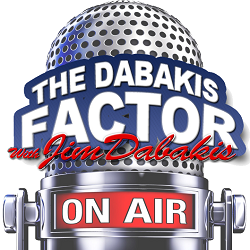 Jim Dabakis came to Utah from Massachusetts to go to college in 1971. Going to Provo was a necessity as there are no good institutions of higher learning in Massachusetts. He has called Utah home ever since.
Jims Website: www.utahdemocrats.org
Dabakis was involved in radio and television from 1976 to 1989. He has worked for all three major network television stations in Salt Lake as well as numerous talk radio stations. Dabakis was recognized with national awards during his time as a journalist/talk show host. He was a guest on several national television shows including NBC's Today Show, CNN and The Phil Donahue Show. Dabakis was known as "Mr. Democrat" during his 13 years on Utah radio. Starting as a volunteer intern, Dabakis eventually ended up as a partner with a small chain of stations that he sold in the mid-1990′s.
Sensing opportunity, in 1989 with the imminent collapse of Communism, Dabakis quit on-air broadcasting and moved to Eastern Europe. He spent most of the next twenty years in Russia successfully developing an art business and funding bright, emerging capitalists.
Dabakis was the founding chair for Equality Utah & the Utah Pride Center.
Jim has remained an active Democrat through the years, giving support and encouragement to office holders and candidates. He began his political service as a volunteer for candidate Scott Matheson during his first run for Governor of Utah in 1976. In July of 2011, Jim was elected Chair of the Utah Democratic Party. He calls his current position (which pays $1 a year), "the most engaging, fun, challenging and exciting thing I have ever done. I love Utah Democrats!"