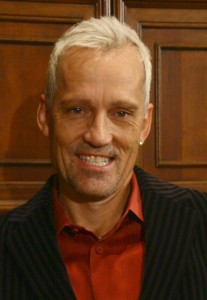 It's Time to Get Out Loud
About Malcolm Out Loud:
News & Political Commentator Appearing on National Radio & Television.
Nationally Syndicated Out Loud Minute Heard daily on over 600+ Radio Stations, 16+ million listeners.
Host of News Magazine MalcolmOutLoud.TV In our third year of quality broadcasting.
Brink Thinking Interviews & Monday Inspiration Inspiring America, one voice at a time.
Malcolm Out Loud is a national news and political commentator and the host of the WebTV channel www.MalcolmOutLoud.TV, home of his news magazine. He is also a published author, speaker and the talent behind a daily radio feature, the Out Loud Minute. Every day Malcolm leads an assault on mediocrity, constantly inspiring others to get Out Loud in every aspect of their lives.
NATIONAL NEWS & POLITICAL COMMENTATOR: Radio and television networks reach to Malcolm on the latest in breaking news, politics, society, business and culture. Malcolm's opinion is sought after by radio and TV outlets nationwide on a daily basis. He has appeared on national shows such as Daybreak USA, CNN, The Big Biz Show with Sully, WCIB Chicagoland Radio, WOW FM, The James Lowe show, FoxNews.com and many more.
OUT LOUD MINUTE: Malcolm's own witty and irreverent 60 second audio take on the news of the day. It is broadcast daily on 600+ radio stations around the country and reaches an audience of 16 million + listeners.
NEWS MAGAZINE: Watch our WebTV channnel for insightful, open minded and stimulating conversations. Malcolm's direct approach, frankness and trademark outbursts of humor allows guests to be themselves. "If we can get the right voices and ears to the table, then dialogue and debate will most certainly turn into clarity and conclusions. When open-minded people sit down at the table to engage in discussion, almost anything is possible." – Malcolm Out Loud.
MalcolmOutLoud.TV covers society, culture, business, community, government, education and entertainment. You haven't seen the news until you've seen News Out Loud.
Experience MalcolmOutLoud.TV: Show Highlights
MEDIA CONSULTING: Malcolm leverages his 25+ years of marketing, branding and advertising expertise through Creative Minds Big Picture, a consulting practice dedicated to helping others harness the power of WebTV and digital media.
AUTHOR: Malcolm is the author of two successful national blogs. ItsTimetoGetOutLoud blog is focused on the news of the day. The BrinkThinking blog inspires people to embrace their uniqueness, while educating them with tips and advice in self-improvement. His latest book "Smash the Competition- The Right Way" has become a guidebook for those who want to challenge the status quo and motivate themselves to be the best they can be.
SPEAKER: In his Brink Thinking Keynote, Malcolm teaches the process of thinking on the Brink. He helps those that yearn for success through the arduous process of elevating their thinking. If you're looking for a speaker that is energetic, unforgettable, inspirational and passionate… then Malcolm is your man!
THE HISTORY: Malcolm began his career in advertising and marketing. After finding success with his marketing agency Teasdale Worldwide, Malcolm knew he needed to take his message to the American people. Malcolm says "I am continuously convinced we can do better. We need to realize that each of our individual contributions make up a more advanced and productive society. I encourage each and every one of us to get Out Loud". To fulfill this mission, Malcolm chose to use the world of media and launched MalcolmOutLoud.TV.